Lecchi in Chianti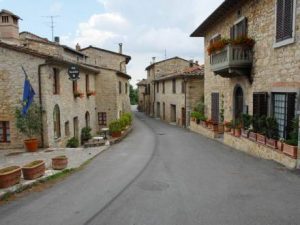 Is an ancient medieval hamlet situated at the base of the hill on which it stands Monteluco a Lecchi's castle, close to Massellane river. The hamlet develops along the main road that goes uphill towards Ama and has maintained unchanged the characteristic features of the alleys and its buildings.
Is a place of quietness and beauty and is an ideal starting point to discover the Chianti Classico. A few hundred meters from us is possible to have a bath in the well known "Lecchi's Puddles".
Gaiole in Chianti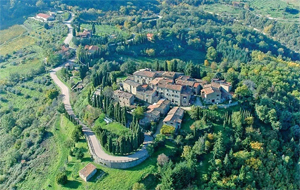 A few kilometers from Lecchi is located the first Chianti town of Gaiole. The shape of the residential area clearly reveals its origin as a marketplace. The residential area originally had developed along the road connecting Valdarno to Chianti and in the place choosen for the market widens giving shape to the today's main square.
The main square has an elongated triangular shape and on either side there are nineteenth-century buildings.
Many are the parishes like Badia di Coltibuono and S. Maria a Spaltenna.
Radda in Chianti
The old town has an urban installation composed of a main road axis on which opens the square with the Palazzo del Podestà and the parish church; from this main road, secondary roads start to form a ring.
Thanks to the fact that the urban installation of Radda hasn't changed along the centuries, its civilan households have maintained the medieval structures that have been discovered only after the restoration made about at the end of XX century. The city walls, the Palazzo del Podestà and the grand-ducal ice-houses are worthseeing. In Radda there is also the Sacred Art Museum of Chianti.
The Chianti Castles Route
In our area of Chianti there is the well known Chianti castles route.  Many are the parishes but especially the castles of this area, most of them perfectly well preserved. Tornano, Cacchiano, Meleto, Spaltenna, Vistarenni, Brolio are among the most famous castles that deserve a visit.
For information in different languages about the Chianti castles routes, is possible to check the website with the Chianti Castles itineraries.
The wine's Chianti Classico
Our area is certainly one of the most famous in the world for wine production. The wineries and the wine shops where is possible to taste and buy one of the most known wines around the world, the Chianti, are countless.
---